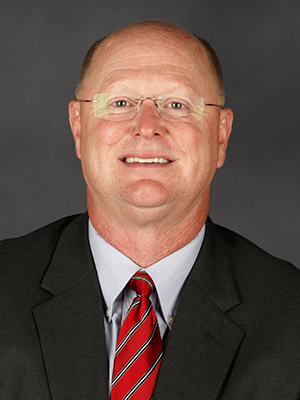 Head Women's Basketball Coach
Carey Green
Liberty Women's Basketball Head Coach Carey Green has instilled quite a winning tradition during his tenure with the Lady Flames. His teams have averaged 23 victories per year, while becoming a regular fixture in the NCAA Division I Women's Basketball Championship.
Green has accumulated a 416-158 record in 18 seasons on the Liberty bench, good for a winning percentage of .725. He currently ranks 17th among active NCAA Division I women's basketball coaches in winning percentage.
Liberty has won the Big South Tournament title and advanced to the NCAA Tournament 13 times with Green as head coach. Liberty has totaled 24 or more victories during 10 of those years, including the 2004-05 season, which saw the Lady Flames reach the Sweet 16 for the first time in program history.
Green has actually been to the postseason on 27 occasions (24 NCAA, 3 WNIT) as a women's basketball coach, a span which includes a dozen years as an assistant coach at Clemson.
Liberty has notched 15 20-win seasons in Green's 18 years at the helm. He is a five-time Big South Coach of the Year and a four-time Virginia Sports Information Directors (VaSID) State Coach of the Year.
Rebounding has always been a trademark of Green-coached teams, and his squad has ranked No. 1 nationally in rebound margin six times (2003-04, 2004-05, 2009-10, 2011-12, 2012-13 and 2013-14) under his leadership. Additionally, the Lady Flames have been listed among the nation's top 10 teams in rebounding margin for 15 straight years.
Speaking of rebounding, Avery Warley wrapped up her career in 2011-12 as the leading rebounder in Liberty and Big South Conference history with 1,282 rebounds. She then became Liberty's third WNBA player, making the Phoenix Mercury's roster as an undrafted free agent.
In 2008-09, Green earned his unprecedented fifth Big South Coach of the Year award, after guiding a team decimated by ACL injuries to a 24-9 record and another Big South title.
In 2007-08, Green led the Lady Flames to one of the best seasons in program history. Liberty tied a school record for victories, finishing the year 28-4.
The 2005-06 season represented one of the best coaching jobs of Green's career. The Lady Flames had lost the top four scorers from the previous year's Sweet 16 squad to graduation. Moreover, freshman Megan Frazee averaged 18.5 points and 9.8 rebounds per game through the first 14 games of her collegiate career, only to be lost for the remainder of the season due to injury. Yet, Liberty was still able to win 25 games, capture its 10thstraight Big South title and earn its 10th consecutive NCAA Tournament berth. Green's efforts were recognized by both the Big South Conference and VaSID. Both groups named Green as their women's basketball coach of the year at season's end. It marked Green's second straight selection as VaSID Coach of the Year.
The 2004-05 year was a special one on Liberty Mountain, for many reasons. A senior-laden Lady Flames team recorded upset wins over No. 4 seed Penn State (78-70) and No. 5 seed DePaul (88-79) in the first two rounds of the NCAA Tournament, becoming just the second team ever to advance to the Sweet 16 as a No. 13 seed ending season ranked 21st.
His record against conference foes is equally impressive. He led the Lady Flames on a Big South-record 57-game winning streak versus league opponents (Jan. 24, 2002 through Feb. 21, 2005) and currently owns a .872 (292-43) winning percentage against conference teams. Green has marched through Big South Conference play with one or fewer setbacks eight times, while guiding the Lady Flames to two undefeated conference seasons.
Green arrived at Liberty after spending 12 years as an assistant at Clemson. While with the Tigers, Green participated in 11 NCAA Tournaments, making four Sweet 16 appearances and one trip to the Elite Eight, in 1991. The Tigers were ranked in the Top 25 during 10 of his 12 years and averaged 22 wins per season. Green had an immediate impact in his first season, as he helped guide Clemson to the ACC's best turnaround in league history. The Tigers posted a 21-7 record in 1988.
Clemson made five appearances in the ACC Tournament championship game with Green's assistance, winning the title during the 1995-96 and 1998-99 seasons. He helped coach 15 all-conference players, four Kodak All-District performers and one Kodak All-American. Clemson also recorded 45 wins over Top 25 programs during the 12 seasons.
Green and his wife, Denise, reside in the Lynchburg area and have two children, Angie and Brian. Angie is a physical therapist and is married to Jason Grunkemeyer, a men's basketball associate head coach at Ball State. The couple has three children, Joshua, Nathan and Evelyn.
Brian is a project manager at Fluor Corporation, in Greenville, S.C., and his wife, Susan, is a pharmacist for CVS. They have two sons, Connor and Bryson.