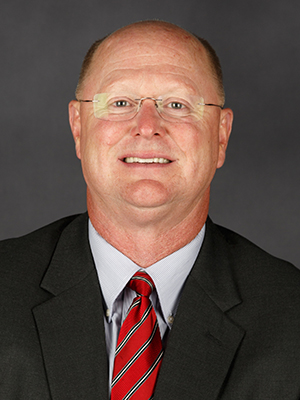 Head Women's Basketball Coach
Carey Green
Liberty Women's Basketball Head Coach Carey Green has instilled quite a winning tradition during his tenure with the Lady Flames. His teams have averaged 23 victories per year, while becoming a regular fixture in the NCAA Division I Women's Basketball Championship.
Green has accumulated a 456-184 record in 20 seasons on the Liberty bench, good for a winning percentage of .713. He currently ranks 20th among active NCAA Division I women's basketball coaches in winning percentage.
Liberty has won the Big South Tournament title and advanced to the NCAA Tournament 14 times with Green as head coach. Liberty has totaled 24 or more victories during 11 of those years, including the 2004-05 season, which saw the Lady Flames reach the Sweet 16 for the first time in program history.
Green has been to the postseason on 28 occasions (25 NCAA, 3 WNIT) as a women's basketball coach, a span which includes a dozen years as an assistant coach at Clemson.
Liberty has notched 16 20-win seasons in Green's 19 years at the helm. He is a five-time Big South Coach of the Year and a five-time Virginia Sports Information Directors (VaSID) State Coach of the Year.
Rebounding has always been a trademark of Green-coached teams, and his squad has ranked No. 1 nationally in rebound margin six times (2003-04, 2004-05, 2009-10, 2011-12, 2012-13 and 2013-14) under his leadership. Additionally, the Lady Flames have been listed among the nation's top 20 teams in rebounding margin for 16 straight years.
Green and his wife, Denise, reside in the Lynchburg area and have two children, Angie and Brian, and five grandchildren.